Skip to Content
Your New Favorite Pet Treat Store in St. Peters, MO
Yadi's Yummies is a community-driven pet treat store in St. Peters, Missouri. Our owner, Jessica, was having trouble finding a company to hire her because of her special needs. So, she pursued her passion for caring for local animals. By owning her own business, she could also hire her friends who had the same difficulty finding employment. Together, we provide unique, homemade, and all-natural treats for dogs and cats.
We work with local shelters to help our community's abandoned and abused animals find safe and loving families by hosting adoption events. We donate to numerous local organizations that provide medical care for dogs and cats in shelters. Whether you're enjoying the look on your dog's face the moment they get a treat, or you're adopting your family's new best friend, we're honored to help you bond with your pets.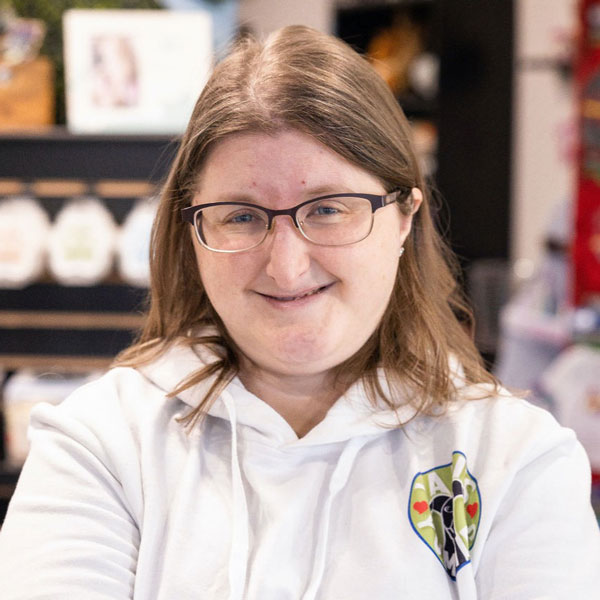 Meet Our Owner
Jessica
I'm Jessica, and I have two dogs named Annie and Yadi. I am a huge sports fan and especially love cheering for the St. Louis Cardinals and the St. Louis Blues. I enjoy going to sporting events, horseback riding, and spending time with my family and friends. One unique thing about me is that I have a rare genetic syndrome called Rubinstein Taybi Syndrome. Some people with my syndrome face many medical challenges, but for me, it primarily affects how I learn. Due to that, I was having a hard time finding a job that was a good fit for me. I started Yadi's Yummies because it perfectly combined my passion for making artisanal pet treats with my desire to help underserved pets in our community.